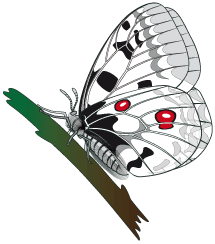 N
achrichten des
E
ntomologischen
V
ereins
A
pollo
NEVA — Nachrichten des Entomologischen Vereins Apollo
The entomological journal Nachrichten des Entomologischen Vereins Apollo is usually published four times annually (two subsequent issues may be united in one double issue). At irregular intervals the Supplementa are published, containing larger papers on special subjects.
The members of the Apollo receive the normal issues automatically. Supplements can be bought at special members' prices. A pricelist for back issues see here.
The main focus of the NEVA are Lepidoptera (butterflies and moths), but the other insect orders are also included (see the List of Contents).
Publications are in German or English language. Manuscripts are to be submitted to the Editorial Manager (E-Mail: redaktion@apollo-frankfurt.de), see the Guidelines for Authors; see also the Board of Editors.
The History of NEVA in short (at present only available in German language) see here.